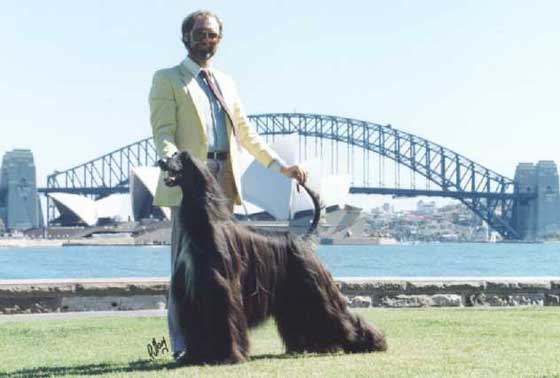 Ch Khandhu Laser Litefoot

Sire: Ch. Alaqadar De Fauves

Dam: Ch. Raushan Talitha Cumi

Tortie was our first Specialty Best-In-Show winner, and he truly was in every way an afghan for the breed specialists. A grand mover, and such an attitude – all on the end of a loose lead ! He went Best-In-Show at the 1st Australian National judged by Sandy Frei. He was also an All-Breeds- Best in Show winner.

He retired from the showring as the Top Winning Specialty Best-In-Show winning Australian Bred Stud Dog, with 4 Specialty Best-In-Shows, and one Runner Up Best-In-Show. Subsequently his daughter Ch. Raushan Copan Cabana broke that record, then her greatgrand son Ch. Kjavu Air Jordan broke her record, and remains today (December 2003), the Top Winning Specialty Afghan in the history of the breed in Australia.

He is the sire of 8 individual Specialty Best-In-Show Winners, including our own Khandhu Champions, Cracker Jack, Smoke Screen, and Stand Out. As a sire, he has been the backbone of many of todays successful kennels, and his worth cannot be over rated. His most famous off-spring was Ch. Raushan Copa Cabana – retired from the showring as Australia's Top Specialty Winning Afghan Of All Time, and Australia's Top Best-In-Show Winning Bitch of all time. 43 Best In Shows ! Nine of them Specialties !